It's fun for college football media to depict Steve Spurrier as the sport's Don Rickles. And to an extent, that's the persona he puts out there publicly when he roasts Nick Saban, Mark Richt and Dabo Swinney (especially Dabo Swinney).

For this reason, headlines of Spurrier's points after too often boiled down to SPURRIER TROLLS [INSERT NAME] without much credence paid to his oftentimes insightful thoughts. Case in point: Steve Spurrier on East Carolina.
In his press conference Sunday, Spurrier cited South Carolina's 2014 opponent from the American Athletic Conference, ECU, when discussing nonconference scheduling. Here's the line that garnered the most attention:
Playing East Carolina is a lot tougher game than maybe picking up one of those bottom Big Ten teams. Plus the fans around here, we'd rather see a team from close by.
OH! Burned ya, Big Ten!
Only, the Head Ball Coach led with this:
Well I like the other conferences, too. Heck, those guys deserve the chance to go play just like the big conferences. The SEC – we've got some down the line teams just like every conference has down the line teams.
Hardly seems like a shot at the Big Ten-or any conference, really. His point even extends to the SEC, widely regarded the nation's premier conference. Just don't tell that to nonconference opponents playing Kentucky.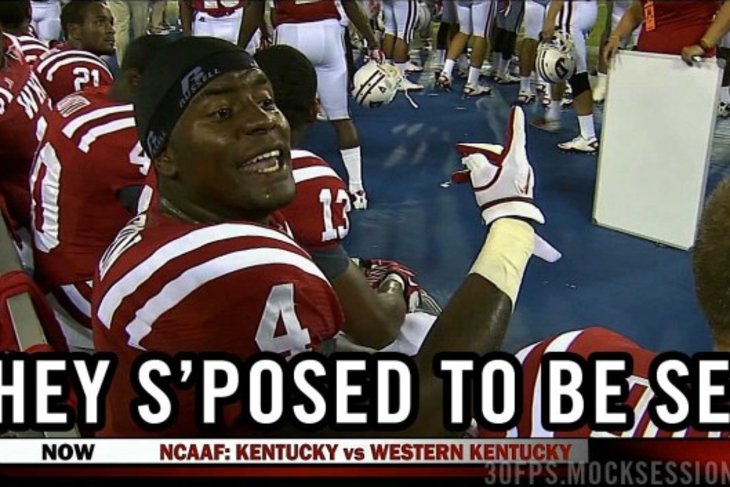 Rather, Spurrier is expressing the value of quality opponents, regardless of conference affiliation. And he understands that value firsthand.
East Carolina has five seasons in the last eight with eight-plus wins. Last year's 10-win campaign was the program's best since finishing 11-1 in 1991, and the Pirates are contenders for the American Athletic Conference championship in their first season as members.
To claim the American, East Carolina has to top UCF. The Knights beat Louisville en route to the Fiesta Bowl, where they dominated Big 12 champion Baylor. UCF's only loss on its road to Glendale? South Carolina.
The Gamecocks' 2013 nonconference schedule also featured their annual rivalry tilt with the ACC's Clemson Tigers and North Carolina Tar Heels. Worth noting, East Carolina beat North Carolina last season, 55-31.
If there's nothing else to take away from Spurrier on East Carolina, it's that dictating strength of schedule simply by conference affiliation is lazy.
Consider South Carolina's SEC East counterpart, Missouri. The Tigers face Indiana of the Big Ten and UCF in back-to-back weeks. There's no doubt which is the tougher matchup.
Yet, the SEC's offseason move to strengthen nonconference schedules tacitly encourages the former while discouraging the latter.
Would a team like Ole Miss get more out of playing Big Ten cellar dweller Purdue than the Mountain West's Boise State? The Broncos face the Rebels Week 1 in the Georgia Dome where, on their last visit, they beat eventual SEC East champion Georgia.
You would be hard-pressed to argue yes, and that's Spurrier's point. The SEC-and every Power 5 conference-should encourage scheduling quality opponents, regardless of affiliation.
That's not trolling. It's common sense.