Stanford head coach David Shaw ended his Pac-12 Championship postgame press conference Saturday in unusual fashion.
"I have a question for you guys," he said to the gathered media. "Has anybody ever seen a game where two different players rush for a touchdown, throw for a touchdown and receive a touchdown?"
Before Kevin Hogan and Christian McCaffrey did so in Stanford's 41-22 defeat of USC, I certainly hadn't. For McCaffrey, hitting the touchdown trifecta was a fitting culmination to his record-setting season. His performance prompted chants of "HEISMAN!" during the game's trophy ceremony, and gave ESPN highlight material for this coming weekend's telecast.
For Hogan, the scores of 11 yards on a reception; seven yards on a rush; and 28 yards on a pass also fittingly capped his final season at Stanford. Overlooking his spectacular play has been much too easy with McCaffrey's electrifying efforts week after week.
Hogan's senior season nicely crystallizes his entire, four-year stint as Stanford's starting quarterback, really. Hogan's been playing in the long shadows of various Cardinal counterparts since 2012, when he overtook Josh Nunes to become the heir to two-time Heisman finalist Andrew Luck.
Following in the footsteps of one of college football's all-time greatest quarterbacks is no easy task. Hogan said he tried to do so with understanding he wasn't Andrew Luck.
"You can't really fill the shoes. You've just got to do what you can," Hogan said. "And I've been a part of four or five great teams out here at Stanford, and the guys we have up front in the backfield, out wide, they make my job easy."
Hogan doing what he could produced three Pac-12 championships in four years, and next month the Cardinal will play in their third Rose Bowl Game of his tenure. But each year of this remarkable run, Hogan's individual performances have taken a backseat to various teammates.
In 2012 and 2013, it was Shayne Skov, Trent Murphy and the rest of two stellar defenses, with the complementary running attack powered by Stepfan Taylor and Tyler Gaffney. This season, it's McCaffrey's star turn and likely run to the Heisman presentation.
But Hogan's success isn't the mere byproduct of those around him, nor he is simply a game manager, asked to do the bare minimum. This season in particular, Hogan made his mark as a top-flight quarterback. Saturday's triple-threat performance in the Pac-12 Championship Game perfectly closed out a run over the past month-and-change that stacks up with the best individual efforts of the 2015 season.
• Oct. 31 at Washington State: 112 yards rushing, two touchdowns
• Nov. 7 at Colorado: 17-of-23 passing, two touchdowns; nine carries, 44 yards, one touchdown
• Nov. 14 vs. Oregon: 28-of-37 passing, two touchdowns; nine carries, 48 yards, one touchdown
• Nov. 21 vs. Cal: 7-of-12 passing, one touchdown
• Nov. 28 vs. Notre Dame: 17-of-21 passing, four touchdowns
That Hogan's most statistically prolific outings both rushing and passing came in dramatic, come-from-behind wins over Washington State and Notre Dame is no coincidence. He's been Stanford's big-game cornerstone for years now, often saving his best performances for the most pressure-packed situations. The Pac-12 Championship Game marked the second time this season alone that Hogan led a Cardinal rally against USC rival.
In September, he delivered a pair of crucial touchdown passes, and he had a long first-down run to preserve a key Cardinal drive.
"Kevin's Iceman," McCaffrey said. "When he's back there taking snaps, our team has full confidence. When I'm sitting there knowing that he's our quarterback, I know we've got nothing to worry about, because that's one of the greatest leaders and one of the greatest competitors I've ever seen in my life."
McCaffrey's right. In critical situations, Hogan is…dangerous.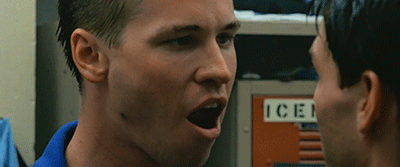 Don't be quick to dismiss McCaffrey's use of the word "greatest" as rhetorical hyperbole. Stanford's head coach upped the ante further in assessment of Hogan's career.
"A guy asked me about Mount Rushmore, the quarterbacks of Stanford history, if Kevin Hogan deserves to be on it," Shaw, himself a Stanford football alum, said. "Absolutely. We've got [John] Elway, [Jim] Plunkett, Luck, and Kevin. I know Kevin will never say that, but I don't think it's even a question."
And you can count another of Shaw's Mount Rushmore honorees among those in praise of Hogan.
"He does what he's asked to do, and he does a tremendous job in this offense," Elway said. "He's got a lot of talent, he moves around and he's athletic. Kevin's going to get an opportunity to have a great career in the NFL."
After next month's Rose Bowl Game against Iowa, the NFL is the next step. Draft prognosticators, like CBS Sports, have Hogan slotted in the later rounds, with 10-plus quarterbacks rated more favorably. Par for the course; Hogan's grown quite adept at flourishing in the shadows of others.