The Jim Mora-Rick Neuheisel kerfuffle seems to finally have bubbled to the surface, and this battle of Baby Blue vs. Black is painted in shades of gray.
Jack Wang of the L.A. Daily News provides details of the media spat, which began with comments Mora made to Colin Cowherd Tuesday, and to which Neuheisel responded on his SiriusXM show Wednesday.
Much of the background between Neuheisel and Mora is no different than at other universities. Since taking over as UCLA head coach in 2012, I have heard Mora and various Bruin players refer to culture in one way or another.
Any regime change comes with similar talk. It's especially prevalent for a program that enjoys a turnaround in the win column, as UCLA has for Mora's four seasons at the helm.
In my time covering the Bruins, however, I heard Mora qualify any such comments with a disclaimer that nothing was meant in criticism of Rick Neuheisel. Mora taking such care to avoid even implicitly criticizing his predecessor can perhaps be attributed to Rick's son, Jerry, remaining on as a reserve quarterback after his dad's ouster.
The clip from Cowherd's radio show is the first time I have heard Mora, in any setting, vocalize the perception many who followed and covered the Pac-12 believed about UCLA football before his arrival: The Bruins looked soft.
Linebacker Eric Kendricks, now a member of the Minnesota Vikings, noted after UCLA's November 2014 defeat of crosstown rival USC that his first start as a Bruin came in an infamous, 50-0 loss to the Trojans in 2011.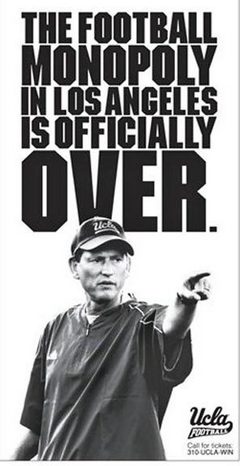 That rout was Rick Neuheisel's swan song, for all intents and purposes, and completed an 0-4 head-to-head record against USC in the coach's tenure.
Considering the Neuheisel began with an overzealous booster paying for an ad declaring the Trojans' L.A. "monopoly…over," a goose egg in the rivalry did the coach no favors.
Conversely, a 3-0 start for Mora in his meetings with USC nicely characterized the culture change rhetoric bounced around Westwood.
"Coach Mora came in and preached a hard-[nosed] mentality," Kendricks said that night. "Everyone bought in."
Among those who bought in were UCLA administrators. To that end, nothing Neuheisel said is necessarily wrong, either.
Athletic director Dan Guerrero is among the Pac-12's more heavily criticized administrators. Among his more controversial moves are the firing of three-time Final Four participant basketball coach Ben Howland, whom Guerrero replaced with Steve Alford.
Alford failed to reach a Sweet 16 in his tenures at Iowa and New Mexico before arriving in Westwood, and this season, is on the brink of missing the NCAA Tournament altogether.
Guerrero's hire of Mora was met with some initial criticism, given the complete lack of collegiate experience in Mora's resume and an oddly familiar feel to USC hiring Pete Carroll a decade earlier.
Further, monetary and administrative investment in the football program's undeniably higher in recent years than during Neuheisel's tenure. Development on the new Wasserman Center will position UCLA to better compete with Pac-12 rivals like Oregon than the Bruins' current facilities, which include a practice field that isn't even 100 yards long.
Underwhelming facilities hinder recruiting efforts. Even so, Rick Neuheisel signed impressively ranked classes, bringing in such impact players for Mora's successful, initial years as Kendricks, Anthony Barr, Johnathan Franklin and Brett Hundley.
Hundley's addition is especially noteworthy. The quarterback started each of Mora's first three seasons, but learned as a redshirt in Neuheisel's final season.
I often admired Neuheisel's refusal to burn Hundley's redshirt. Following a blowout loss at Arizona in October 2011, inserting the celebrated Hundley into the lineup might have waved the white flag on that campaign, but been enough of a placating measure to critics to buy the coach one more season.
Rather than sacrifice Hundley's development for personal gain, Neuheisel kept the redshirt on. Hundley was better prepared to lead in 2012, and left UCLA with 29 career wins.
The Bruins' immediate success in Mora's first three seasons remind me of an analogy Rich Rodriguez used to describe his abbreviated Michigan tenure, and the Wolverines' 11 wins the first season after his ouster. Rodriguez compared the process to baking a cake, only to watch someone else eat it.
While UCLA struggled in Rick Neuheisel's four years as head coach, the immediate turnaround to 9, 10 and 10 wins in the years to follow proved the Bruins weren't lacking the ingredients before Mora.
UCLA experienced a downturn this past season, failing to win nine games for the first time in Mora's tenure. The streak against USC came to an unceremonious end, and the Bruins dropped an ugly bowl game decision to a 5-7 Nebraska team.
Things like the inconsistent play of the offensive line, sometimes porous run defense and a penchant for penalties draw far more scrutiny when the wins aren't as plentiful. As I noted earlier this month, UCLA isn't winning commensurate with its recruiting acumen.
Neither Jim Mora nor Rick Neuheisel is wrong. In Mora's case, however, it's irrelevant. UCLA made its judgment on Neuheisel. Mora must keep winning, and win more, to avoid becoming the next coach whose tenure is spoken of in vague platitudes about culture.