Welcome to the first installment of The College Football Huddle's season-long college football picks and previews column, the Saturday Six-Pack.

The Christmas analogy is perhaps overused, but it really is fitting for this Saturday. Much like when you were a little kid, you'll have reason to be up well before anyone else. This year, Week 1 kicks off at 8:30 a.m. ET with an overseas matchup.
From there, the slate goes right on throughout the day, all the way to 10:30 p.m. ET. Fitting that game No. 1 kicks off across the Atlantic, while the day's final contest, Washington at Hawaii, is being played across the Pacific.
That's a whole lot of college football to navigate. Let the Saturday Six-Pack be your guide.
Penn State vs. UCF
in Dublin, Ireland
Kickoff: 8:30 a.m. ET/5:30 a.m. PT
TV: ESPN2
Line:Penn State -1
Over/Under: 47
Get a good night's sleep Friday and set your alarm to start your Saturday early. Have breakfast with James Franklin and George O'Leary-might I recommend an Irish Full? That's sausage, fried eggs, black and white pudding and bacon for those curious.
College football returns to Ireland, and the fans there get what should be a much more exciting contest than Notre Dame's 50-10 drubbing of Navy two years ago.
Last year in Happy Valley, Blake Bortles burst onto the national scene with a three-touchdown, 288-yard effort, and the Knights held off a late Nittany Lions surge to win, 34-31.
Bortles is now jockeying for the starting job with the Jacksonville Jaguars, but UCF is built to sustain the loss. The Knights are stout defensively and should test quarterback Christian Hackenberg. Thomas Niles and Blake Keller were two of UCF's best pass-rushers as youngsters in 2013; this season, they are tested anchors of a championship team. They could be a handful for a young Penn State offensive line.
The matchup to watch on the other end is Penn State's run-stoppers against William Stanback. Stanback was No. 2 to Storm Johnson a season, but the sophomore is primed for a breakout 2014.
At 225 pounds, he has a punishing rushing style that should set the tone for the Knights' entire offense. After all, O'Leary favored a heavily ground-based approach prior to Bortles' arrival.
My pick of UCF may not come to fruition, but at the very least, the Knights will look good in their special edition helmets.
UCF's helmet for Ireland game has 2 shamrocks on it -> http://t.co/GAKczGq8XC pic.twitter.com/nC8QWMwXC4

— Phil Hecken (@PhilHecken) August 29, 2014
My Pick: UCF 31, Penn State 28
North Dakota State at Iowa State
Kickoff: Noon ET/9 a.m. PT
TV: Fox Sports 1
Line: Iowa State -3.5
Over/Under: N/A
Three-time defending Football Championship Subdivision national champion North Dakota State opened its 2013 campaign by marching into Big 12 territory and knocking off the conference's reigning champion, Kansas State, 24-21.
The Bison have a new head coach, new quarterback and generally new feel. And yet, they're still regarded as preseason contenders for the FCS title, and with good reason.
North Dakota State is as workmanlike as a team gets. The Bison are not built on star power, but rather collectively tenacity. NDSU's defense will give new offensive coordinator Mark Mangino's Iowa State side quite a workout, with Kyle Emanuel chasing Cyclones quarterback Sam Richardson and Christian Dudzik turning wayward passes into turnovers.
Iowa State has been susceptible to FCS upsets in recent years. Just last year, NDSU's Missouri Valley rival Northern Iowa knocked off the Cyclones on the same weekend the Bison were dispatching K-State. Meanwhile, NDSU has been one of the most consistent FBS slayers.
The streak continues Saturday in Ames.
My Pick: North Dakota State 28, Iowa State 27
No. 16 Clemson at No. 12 Georgia
Kickoff: 5:30 ET/2:30 PT
TV: ESPN
Line: Georgia -9
Over/Under: 60
Last year's Clemson win in Death Valley was the highlight of Week 1. The Tigers and Bulldogs exchanged blows and Aaron Murray nearly led a fourth-quarter comeback, but Tajh Boyd and Co. proved too strong.
Both Murray and Boyd are gone, but that doesn't mean the return engagement is lacking for star power. Georgia running back Todd Gurley might be the most exciting ball-carrier in the country.
Gurley must contend with a Clemson defensive line featuring studs Vic Beasley and Grady Jarrett. The Tigers' front promises to test a Bulldogs' offensive line bringing back just two starters.
The most ravaged area of the Georgia roster, however, is in the secondary. The dismissal of Tray Matthews in June made new defensive coordinator Jeremy Pruitt's job more difficult. Conversely, Cole Stoudt is in his fourth year at Clemson and is well acquainted with offensive coordinator Chad Morris' system.
Stoudt should produce some gaudy numbers and some touchdowns. The X-factor for Georgia is forcing him into critical mistakes to offset the impact.
The Bulldogs' stellar linebacker corps should help to that end. Leonard Floyd, Ramik Wilson and Jordan Jenkins will all bring consistent pressure. If the Dawgs can turn that into takeaways, they'll exact revenge for last year's defeat and notch a major W on their College Football Playoff resume.
My Pick: Georgia 38, Clemson 31
Fresno State at No. 15 USC
Kickoff: 7:30 ET/4:30 PT
TV: Fox
Line: USC -23
Over/Under: 55
Circumstances surrounding this game changed dramatically in the last few days, with USC losing redshirt senior cornerback Josh Shaw to a mysterious ankle injury, and later suspension. New USC defensive coordinator Justin Wilcox is rolling with a very young secondary as a result: Chris Hawkins, Adoree' Jackson, Lamont Simmons and Jonathan Lockett are all playing their first college game against a team that led the nation in passing just a season ago.
However, I'm not about to waiver from the pick I made earlier in the week. Despite distractions, this is a talented enough USC team to sustain one loss and hold steady, particularly on the defensive side.
Fresno State struggled to move the ball against the Trojans in the bowl game with a much more veteran offense. USC's front seven should overwhelm the Bulldogs, while the running back tandem of Buck Allen and Justin Davis will jab the Fresno State defense enough to set up Cody Kessler and Nelson Agholor to deliver haymakers.
My Pick: USC 48, Fresno State 24
North Texas at Texas
Kickoff: 8 ET/5 PT
TV: Longhorn Network
Line: Texas -26.5
Over/Under: 51
In no way, shape or form do I profess to understand the inner workings of Las Vegas. Nevertheless, I see lines such as the above that absolutely floor me.
Texas as a nearly four-touchdowns-and-three-extra-points favorite against North Texas is one such line. Now, I don't fault those who set the number one bit-it's their job, and they are exceedingly good at it. Rather, I'm dumbfounded that despite the various disappointments and offseason of criticism directed at the Longhorns, the name brand carries enough weight to generate such a lopsided line.
To wit, North Texas had the nation's No. 8 scoring defense in college football a season ago. Opponents averaged just 17.5 against the Mean Green a season ago. And, in its most comparable matchup to Saturday's-a trip Between The Hedges to face a pre-injury ravaged Georgia-the game was tied midway through the third quarter. The Dawgs piled on late, and still wouldn't have covered the 26.5-point spread set for the Mean Green's trip to Texas.
None of that's to predict a North Texas win. Head coach Dan McCarney does face considerable turnover (though he does return an outstanding offensive line).
Texas has an obvious advantage in terms of sheer talent. The Longhorns shouldn't be lacking for motivation, either, coming out of an offseason in which national media outlets just pounded the program at seemingly every turn.
Charlie Strong won't lose his debut to a Conference-USA opponent. Still, this is a good enough North Texas team to keep it competitive for much of the night.
My Pick: Texas 30, North Texas 17
No. 14 Wisconsin vs. No. 13 LSU
in Houston
Kickoff: 9 ET/6 PT
TV: ESPN
Line: LSU -4.5
Over/Under: 51
Now this is a Week 1 matchup to really sink your teeth into. Both LSU and Wisconsin come into 2014 with some uncertainties: LSU is young throughout the lineup, particularly in the backfield.
Mad Hatter Les Miles could play two quarterbacks, Anthony Jennings and Brandon Harris. Meanwhile, running back Leonard Fournette comes into 2014 with some high expectations. He is being touted as a Heisman candidate before he ever participated in a practice, let alone a game.
The typically stout Badgers run defense finished No. 5 a season ago, but lost each of its starters from the 2013 front seven. The dynamic of an entirely new set of starters against the unproven but immensely talented Fournette is one of the cornerstones of this game.
The Badgers also face questions of their own on offense. While running back Melvin Gordon is one of the nation's best at his position, Wisconsin is breaking in a new starter at quarterback, Tanner McEvoy.
A few things are certain for both teams, however. Each will play tough, physical football, and both will contend for their respective conference championships as the current uncertainties are ironed out. As they emerge throughout the campaign, the winner Saturday will have an inside track on the college football playoff, thanks to this Week 1 dandy.
Expect a hard-hitting, competitive game with a low-scoring first half. The offenses will need time to feel one another out, but whichever can gain any offensive advantage will win a close one.
My Pick: Wisconsin 27, LSU 21
Saturday's Six-Pack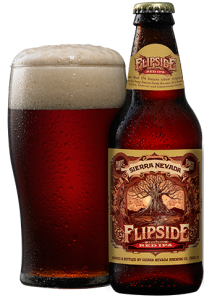 Sierra Nevada Flipside Red IPA
While technically there are another few weeks of summer remaining, I count Labor Day weekend and the arrival of football as the official changing of the season. Summer is giving way to autumn, and Sierra Nevada's Flipside Red IPA is the perfect homage.
BeerAdvocate.com gave Flipside Red IPA an 85, while RateBeer.com scored it at 96.
Personally, I'm a big fan of just about anything Sierra Nevada. Of its specialty suggestions, this is one of my favorite.
My college football picks might prove to be lacking this week-we'll see-but you won't go wrong heeding my advice on Flipside Red IPA. It's the ideal beer for welcoming a new college football fall.